Hi
What's the difference between the blue 'Windows - Connected' & the green 'Windows - Online' Please??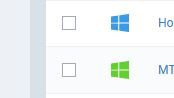 Hi @Ed_Johnson,
Color the OS icon blue: Slow connection. The device is connected but commands and messages may take some time to execute since the endpoint is busy.
Color the OS icon green: Good connection. Commands should be executed in real-time.
For more information, please refer to this help guide https://community.itarian.com/help/topic-459-1-1005-14784-Manage-Devices.html
Kind Regards,
PremJK